An Extended Stay Health Center Retreat

Pothiyalai Health Center Resort high standard of sevice ensures great attention to detail and offers a truly welcome and friendly atmosphere,second to none. It is the delivery of service that differentiates, Pothiyalai Health Center Resort, from the rest. There really is no comparison!

Come celebrate the longevity of life and enjoy perfect weather at the Pothiyalai Health Center Resort.
Balance your senses in harmony with the great power of nature. It is a world full of richness and wellness.
Eternal facilities for a first-class vacation are at your disposal.
Let the power of "Lanna Nakorn", touch your hearts, while you enjoy a memorable health holiday, staying in boutique style accomodations, with panoramic views overlooking, a virgin mountain valley, and a beautiful water reserve. The outdoor landscape encompasses, a small golf course, with clear mountain views of northern style houses.

The Pothiyalai Center Resort is owned and managed by Jasmine Vishanu, located in Chiang Mai, Thailand, "the Rose of the North". Situated amidst stunning tropical forests, filled with calm, harmony and peace. Located near the Royal Golf Course and Hotel on the Chiangmai Prow Road, facing Mea Jo University, only twenty minutes travel time to the airport.

The Center is set in the midst of twenty acres of beautifully landscaped tropical gardens, next to a water reserve.Guest rooms and suites all feature a fresh, unconventional style, after the old and ancient "Lanna Style". Rooms have bright, open style bathrooms, which creates more space and light in the room. A totally new approach to interior decoration and color contributes to a new and refreshing holiday experience.

Pothiyalai Health Center Resort premium service standards ensures great attention to detail, and provides for a welcome and friendly atmosphere.

Pothiyalai Health Center Resort offers creativity workshops dedicated to teaching people about how to develop their creativity, and use it in all aspects of their life, work, and expression. In a non-competitive,non-threatening, nurturing atmosphere, the workshops help participants develop creative skills,expand sensory perception, develop innovative problem solving skills, and find new ways of looking at life as exciting and transformative.

All the workshops, approach to therapy, uses movement, body awareness, physical and breathing exercises to improve health and wellness. Physical and emotional tensions loosen and slowly dissolve. New vitality emerges with a fresh view of life, by uncovering hidden blockages and healing physical,emotional,mental, and spiritual wounds.

A complete range of services opening the way to the inner self includes:
complete meditation coaching
spiritual retreats
yoga
sacred healing
past-life regression
vision quests
clairvoyant readings
sessions with an intuitive guide
dance movement
sound therapy
self reflection
personal development



The price list of accommodation
Room Features: Satellite TV, hairdryer, refrigerator, hot and cold bath/showers, air- conditioning, writing desk, international direct dial telephone (IDD)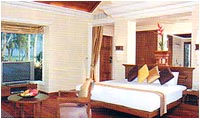 SPECIAL INTERNET RATES

If you're interested in joining this program, please make an online reservation here.